We've tried and tested dozens of apps and have come up with a list of the best apps for dental students!
Apps for Learning
1) StudyBlue
This is a great app for all students, making paper flash cards a thing of the past! With this app you can make, read and share your own flash cards on your mobile device. There are already so many dental flashcards on StudyBlue to help you learn and revise. In fact, we would like to encourage as many dental students as possible to get involved as we can all benefit for this well designed app.
Available on iOS and Andriod, and also accessible online.
Price: Free!
2) VitalSource Bookshelf
When you purchase books published by Elsevier – nowadays they come as part of an 'Evolve eBooks Package' – the code you get with the book can be entered in to this app and you can download the eBook version in to your bookshelf. VitalSource Bookshelf allows you to have 2 computers and 2 mobile devices activated at any given time.
The VitalSource Bookshelf is very easy to use and has handy functions such as being able to search your entire eBook to find the bits you want, and also a back button (which is so simple but many competitor apps do not have this!)
You can also highlight the ebooks and maximise pictures and diagrams to see the finer details.
Available on iOS and Android.
Price: Free!
3) SoundNote
This is a great App for all students. There are also many variants of this App – but this is our favourite. SoundNote is a note taking app which records audio at the same time.
SoundNote tracks what you type and draw while recording audio, so you'll never worry about missing an important detail. While playing back your recording, just tap a word; SoundNote will jump right to that point in the audio.
Quite often if you have timed it correctly, it will seem as though what you have typed and what is being said by the lecturer is completely in sync during playback.
A superb all-round app for note-taking, recording lectures and revision.
Available on iOS.
Price: £2.99
4) All Things Dentistry
This app is made by @AshleyMarkDMD who blogs/vlogs on AllThingsDentistry.Com
Ashley Mark is a Canadian dentist and is clearly passionate about Dentistry. The app links to his YouTube channel where you can find dozens of helpful videos with a wide scope of dental content. Some of his videos may be a little beyond the curriculum of undergraduate dentistry but the majority offer very useful tips.
Available on iOS and Android.
Price: Free!
5) Medscape
The Medscape App by WebMD has a fair amount of useful clinical dental cases. The wide variety of dental topics covered include Salivary Gland Neoplasms, Anaesthesia, Burning Mouth Syndrome and Tooth discolouration to name a few. The app specialises in medical topics and is a great resource for studying human diseases.
You can instantly access over 10,000 drugs, conditions and procedures. Even better still, you can very quickly check interactions between different drugs with the Interaction Checker tool.
The app was designed with all healthcare professionals in mind, and has certainly got its uses for the undergraduate dental student.
Available on iOS and Android.
Price: Free!
6) Oxford Handbook of Clinical Dentistry (OHCD) App
The handbook by Mitchell is a clear favourite with dental students on clinics. The book can now be downloaded as an app. The OHCD app is colourful, easy to use and allows searching for content. It's an alternative to the physical copy of the book, which may appeal to some students.
However, it does come at a hefty price tag of £34.99, whereas the paperback is less than £25 on Amazon. If the price was to reduce in the future, then this App would be perfect for those who choose to carry a device in to clinic rather than the book.
Available on iOS.
7) DentistryPro Consult
DentsitryPro is an App developed by Georgia Health Sciences University – although the scope of content with this app is not particularly wide, it has some very good animations for Occlusion (such as canine guidance and denture cusp movements) as well as videos and explanations for common errors in panoramic imaging.
The three categories covered by the App are Radiology (Panoramic imaging), Removable Prosthodontics and Restoration (but this only has three videos). If you're wanting to master normal occlusion and occlusion in removable prosthodontics, then this app is for you.
Available on iOS.
Price: Free!
8) Tooth Morphology
This is a great new app by a dental student studying at The School of Clinical Dentistry, Sheffield!
This simple dental app is primarily targeted towards dental students in their early years of training, however it is easy for anyone and everyone to use. The app behaves as a quick, brief and easy resource for basic and crucial information regarding tooth morphology.
This handy reference brings calcification, eruption and root completion dates of permanent teeth to your finger-tips. The images are of a very high quality and show all surfaces of the tooth selected.
The app features a completely touch-friendly interface that is clean and easy to navigate. Three key areas are targeted: tooth development, morphology and distinguishing features. The app makes learning Tooth Morphology quicker and easier than ever before!
Available on iOS and Android.
Price: £0.69
9) iStudent MCQ
 iStudent MCQ is an app created by a dental student at King's Dental Institute – and is aimed at helping dental students pass exams by offering a fun, game-like app with tons of MCQ questions that you can sink your teeth in to.
There are many categories to choose from, and the app is very easy to use. There is a Lite version for you to try, with a limited bank of questions, and the Pro version with more categories and an extensive bank of questions.
Available on iOS.
Price: £1.49 for iStudent MCQ, Free for iStudentMCQ Lite
Patient-Centred Dental Apps
10) 3Dentist
3Dentist is a great App for showing animations to your patients to show how to effectively clean their mouth (free animation) but there are also animations that show Orthodontics, Whitening, Simple Cons, Prosthodontics and Endodontics (which can all be purchased).
Although only the Gingivitis video is free – it is still a great animation that some students show their perio patients. Gone are the days of showing illustrations and photos to convey a message – it is now time for Dentists and dental students to embrace the 21st century!
Available on iOS.
Price: Free – but only comes with Gingivitis Prevention animation – any others need purchased and the prices range between £13.99 - £24.49
11) Dental Expert + Paediatric Dental Expert
Dental Expert and Paediatric Dental Expert are a patient's guide to understanding all aspects of dentistry and its procedures. This application includes the most frequently asked dental questions answered by the top dental experts in each field, and overseen by NYC Cosmetic & General Dentist – Dr. Marc Lazare.
The apps contain fun facts, a section dedicated to Myth Busting (such as 'Bleeding gums are normal') and generally packed with useful information for patients.
Recommend these apps to your tech-savvy patients that want to know more about looking after their smile.
Available on iOS.
Price: Free!
12) BrushDJ
This is a great App to recommend to your patients.
Brush DJ has been developed by a dentist for anyone wanting to prevent gum disease and tooth decay to help maintain a healthy smile and fresh breath.
This app plays 2 minutes of music taken at random from your device's music library and has a visual display showing where to brush- finally brushing becomes something to enjoy!
The latest age specific information is given as per the Department of Health's toolkit 'Delivering Better Oral Health'. Free updates will be available whenever new oral health information is released. Check out the BrushDJ video if you need further convincing: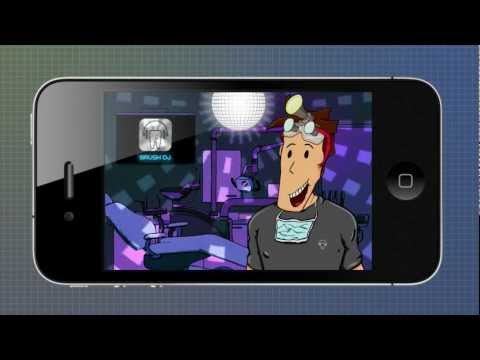 Available on iOS and Android.
Price: Free!
13) Dentify
Dentify is an app that is primarily aimed at patients to give them advice for acute and chronic problems they may have, ranging from toothache to bleeding gums. What we like most about this app is that where possible information provided is evidence based, using Delivering Better Oral Health and Cochrane as references.
It also stresses that it does not aim to replace the dentist and highlights the importance of regular visits to your dentist.
The app is a great tool for educating and reassuring patients – it even has a quiz for them to see how much they have learnt!
Available on iOS and Android.
Price: £0.69
If you would like to recommend your favourite dental apps – then contact us and we'll put them on!